Free Online Promotion
Register as unverified supplier to promote your products on GlobalSources.com for free. You can post up to 100 product images to attract over 1 million of the industry's quality buyers worldwide.
Verified Supplier
Become a Verified Supplier to boost your exposure and communicate your value to buyers. Benefit from the industry's unique keyword star-ranking system, demonstrating supplier strength through a "one row per supplier" search results interface, and attract more targeted buyer inquiries.
Value-added Services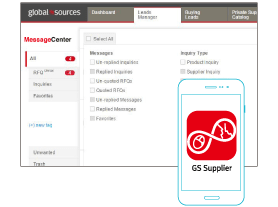 Message Center –The industry's leading export inquiry management tool.
GS Supplier App - Receive buyer information and manage inquiries anytime
Manage buyer inquiries anytime, anywhere.
Quote RFQs ahead of your competitors.
Collect buyer information without logging in.
Successful stories from suppliers
Why do tens of thousands of suppliers choose Global Sources for their marketing promotions and to successfully sell their products worldwide?

"We are using the six-star online package, which is a supplement to the trade show promotion. Buyers often search for exhibiting products before their sourcing trip and come directly to our booth when they arrive at the show. We met almost all our clients through both the online and offline platforms, which combined is the most effective marketing channel for us."
Bamboo Zhou
Director, All Best Technology Limited, mainland China

"We are also a four-star advertiser at GlobalSources.com. We usually receive four to five inquiries containing buyer profiles each day. I think that this is how Global Sources differs from its competitors."
Cammy Xie
Sales manager, RSH-Tech Co. Ltd, mainland China

"We have been attending the show since 2011 and we are a six-star advertiser at GlobalSources.com. The show only lasts four days, but the online promotion offers yearlong exposure. The combination of online and offline channels address buyers' sourcing habits and has generated excellent results for us."
Jacky Kang
Vice general manager, Shenzhen Golf & Feihuang Technology Co. Ltd, mainland China
Learn more
Buyer Testimonials
Why do thousands of buyers search for cool products on GlobalSources.com?

"GlobalSources.com is a good place to talk and make first contact with suppliers. Later, we can have a meeting and discussion at Global Sources Exhibitions."
Luc DeMeyer
Sales manager for Benelux-Sweden, Velleman, Belgium

"I also search for suppliers in GlobalSources.com. I can use the exhibition lists to find suppliers… you can find a lot of information from it."
Alejandro Solana
Tinitell, Sweden

"GlobalSources.com is very informative. I download the magazines all the time because they are very informative for our sourcing (needs)."
Daniel Aghaee
Axess Products Corp., U.S.
Online-to-offline Marketing Solution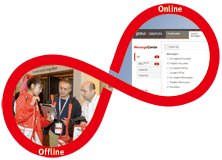 Global Sources' verticalized online & offline marketing package combines online, trade show, magazineservices to help suppliers reach their target buyers seamlessly.